Upgrade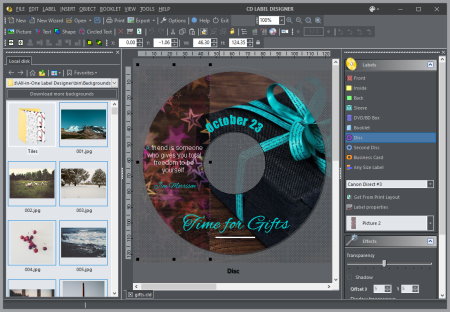 If you purchased any version before September 1st, 2016, you need to purchase an upgrade for version 6.x. To apply 50% discount, enter this code in the order form:
CDLD7PROMO4992
Buy Lite license for $9.97
Buy Personal license for $17.47
Buy Business license for $24.97

Compare Editions
Upgrade it not mandatory! If you are happy with version you already have, you can continue using it forever. In case you lost an installation file, you can find old versions on Downloads page.
What's New in 7.0
+ Shape frame line style (dotted, dashed...)
+ Tiling scale introduced
+ List of objects for easy selection
+ Replace image option
+ More than 150 new background images and tile patterns
+ Modern Dark and Light themes
+ Lite version introduced
+ Option to use default themed background
& Hold Shift while resizing to keep center in place
& Better mouse wheel behavior
& Arrows to move object, Alt+Arrows move them in smaller steps
& When cropping image, re-calculate position to reflect position of selected area
& Automatically zoom to fit when file is opened
& Image editor - set Whole zoom by default
& Faster online background photos checking
& Support Tiles background downloading
& Help tooltip for resizing/moving
& Automatically add installed backgrounds folder to favorites
* Wrong drawing position when shadow position is negative
* After image cropping, move image if completely outside the label
* Some Toolbar items language not updated until restart
* Several other minor fixes and improvements