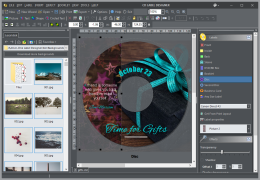 This CD Label Designer update contains number of improvements and fixes. One of most important is the memory usage optimization, so performance while editing labels with very high quality images is significantly improved.
Another slightly important update is in Print window: in addition to printer output tray, now you can also change media type without opening standard driver's Printer Properties, which can be easily missed.
Here's a full list of improvements:
Possibility to choose preferred media type (paper, printable disk…) directly

Easier template selection in the main screen
Editing performance considerably improved when high quality images are used
Maximum undo levels now can be increased to up to 100
Problem with saving Print Layouts in some cases
Problem when printing landscape
Problem with custom printer settings (when set from driver's user interface)
Autoupdate fixed (you still might need to download it manually this time)
Print Preview error when no layout is selected
Mouse wheel above design area problem
Several other minor fixes and improvements
This update is free for all v5.x customers.