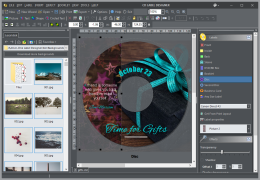 Major version 8.0 update of CD Label Designer is ready for download. Upgrade to this version is NOT FREE unless you purchased after September 1st, 2019. If you purchased before that day, you are eligible for 50% discount. Please use the link from within an application to see more information.
What's New
+ Full support for transparent and partially transparent PNG images (Alpha channel)
+ Better and easier support for any sized labels
+ Support for second disc in the same file
+ Add type and layout to New Wizard
+ Add several new label formats
& Toolbox image actions should apply to all selected
& Sort Toolbox layouts by name
& Keep selection after undo/redo
& "Lock" option status barely visible
& Better handling of saving files error
& Downloading images: hold refreshing image toolbox until all done
* Tiled images not scaled correctly for the printer resolution or zoom level
* Problem with transparent images and smaller images under them
* Problem with non-rectangular shapes and smaller images under them
* Duplicate zooming in PicProp
* Downloading images: total size showing 0 MB
* Several other minor fixes and improvements
New batch of background photos
Along with this update, we also added another batch of almost 100 photo backgrounds and repeatable images that you can use freely in you CD/DVD label and cover designs, to the total of 608 images. All photos are high-res, ensuring that they look good when printed.
To get them, use Download more backgrounds button in Image browser window.
Enjoy!