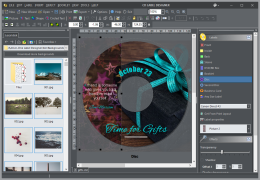 This CD Label Designer update contains some improvements and fixes.
Another slightly important update is in Print window: in addition to printer output tray, now you can also change media type without opening standard driver's Printer Properties, which can be easily missed.
Here's a full list of improvements:
Layouts and templates moved to user Application Data folder
Remember last used text color in Text Edit window
Printing elements partially outside boundaries when shadow effect is on
Typing in Web browsers invokes actions (H – Help, P – Print, etc)
Alt+Arrows and Size toolbar doesn't allow moving outside boundaries
This update is free for all v5.x customers.
Free Label Designer
Starting with version 5.2, a free version is also available. It's a "little brother" of full version and it doesn't contain all the bells and whistles, but it's still arguably most advanced labeling software available on the market, especially among freeware.
Free version information
Compare Free vs Full