Occasionally one of browsers falsely flags and blocks CD Label Designer as an unsafe download, which is understandably an inconvenience and can raise a suspicion. Our downloads are digitally signed by certificate acquired from respectable certificate provider Comodo, ensuring that download is authentic and not tampered with by any third party.
Recently, such event was caused by Microsoft's SmartScreen Filter within their Edge browser. These things happen often with independent software developers, but sometimes Microsoft even flags their own downloads too.
When this happens, we double-check that everything is indeed okay and immediately contact an authority that issued a warning (in this case Microsoft) requesting a reevaluation. Needless to say, it is hurting businesses around the world, especially when they are taking too much time for a review.
What can you do to be safe?
First thing: DON'T TRUST OUR WORDS! Each time you get a similar warning, with any software not just ours, you should check download for viruses and other malware. Great online tool to do this is VirusTotal. It allows you to either upload a file from your computer or paste a link, and it will run antivirus checks against a file or a website from dozens of various antivirus software. You can't be much safer than this.


Direct link to VirusTotal's analysis of CD Label Designer installation file
After you ensure that download is indeed safe, you can instruct your browser to unblock a download. In Edge, you should choose option Keep.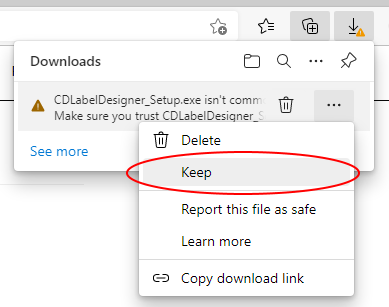 Next you will see more information about the file, mainly the Published information: it should state our company name Dataland Software. Now click Keep anyway and file should be available to you.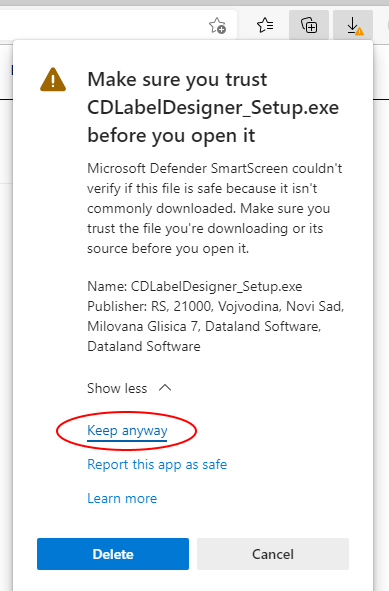 In case you need it, here are independent similar instructions:
How to bypass or disable Microsoft Edge's SmartScreen Filter